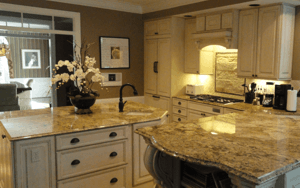 Our Top Countertop Choices for Your Next Kitchen Remodel
Countertops are one of the first things customers want to change when it comes to their home's kitchen remodel. Before selecting your countertop choices, it's a good idea to know the ins and outs the options on today's market.
Don't leave home without our comprehensive, quick and easy Kitchen Countertop Guide:
Butcher Block offers your kitchen a cozy, quaint style. It is multifunctional eliminating your need for a cutting board. It is also low maintenance with the ability to sand scratches and periodically seal with mineral oil.
Concrete fits any style of kitchen and can be painted or stained to match any kitchen decor. The biggest cons of concrete are it needs to be waxed every two weeks and sealed often.
Granite is one of the most popular kitchen countertop options. It is durable and resistant to heat or scratches. While is offers a classic look and is easy to clean, the natural stone does need to be resealed periodically as routine maintenance.
Marble is appealing to the eye and ideal for frequent bakers because the cool surface is great for kneading dough. The downfalls of marble are it can stain and chip easily. It also needs routine sealing.
Quartz has a similar appearance to marble or granite. One perk is it doesn't scratch or stain as easily as marble and is very durable. It also available in a larger variety of colors and conveniently easy to clean.
Stainless Steel provides a nice blend of modern yet classic style. It requires no maintenance and is antibacterial. It's easy to clean but you must wipe with the grain and dry with a clean cloth or you may notice spots and streaks.
Tile is adaptable to any kitchen style. It is stain resistant, heat resistant and available in an assortment of options to further customize your look with different colors or sizes. It does chip and scratch easily but you can replace the individual tiles.
Let us know which countertop you selected and why. Fellow remodelers just might learn from your experience.